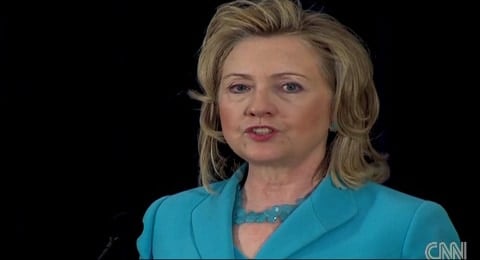 UPDATED with FULL VIDEO, AFTER THE JUMP…
Secretary of State Hillary Clinton  delivered remarks this morning at an LGBT Pride event at the State Department. Clinton mentioned the "historic" New York marriage equality victory but did not say she supported same-sex marriage, Politico reports:
Clinton opposed same-sex marriage and back civil unions during her time in the Senate and while running for the Democratic presidential nomination in 2008. Earlier this year, she said in an interview that her views on the issue had not changed.
While Clinton did not offer an outright endorsement for gay marriage — something still publicly opposed by her boss, President Barack Obama — she did suggest she's supportive of New York's new law and she cited the changed vote of one New York Republican who said it was no longer fair for him to treat one set of his constituents differently than another.
Watch Clinton's remarks, AFTER THE JUMP…
FULL VIDEO: