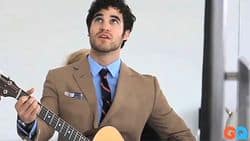 Darren Criss knows where he has an audience.
Chicago Pride reports that Darren Criss will be taking the stage at this year's Northalstead Market Days in Chicago.
"Organizers confirmed to ChicagoPride.com that Criss and his band will perform Saturday, August 13 at 4:30 p.m. on the Rivers Casino Stage at Addison and Halsted during Market Days, the largest two-day street fair in the Midwest.