Anticipation for a vote on marriage equality in New York has been building for a week now, and today may be the endgame of those hopes.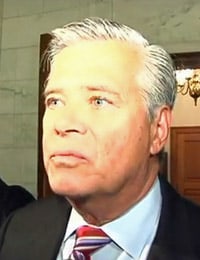 As always, we'll be following it here, and if the Senate begins debate, we'll let you know.
The Wall Street Journal reports that Senators are concerned they will be called back to Albany for a special session unless they vote:
"I see it coming to the floor," said a Republican senator. "People who don't understand the process are thinking, 'Don't bring it up and it will go away for a year.'"
If they block the bill and head home to their districts, the senator said, the governor would likely order them back to Albany for a special session and demand that they take up the measure.
At one point this week, a small contingent of Republican senators floated the idea of settling the matter with a voter referendum—a process for which does not currently exist—instead of a legislative vote. Other Republicans, including the Senate leader, Dean Skelos (pictured), shot down the idea, doubting that it would be possible to get Assembly Democrats or the governor to consider such an option.
The governor's office has circulated draft language for amendments to a gay-marriage bill that passed the Assembly last week. Negotiations over the wording of additional legal protections for religious groups were continuing late Wednesday.
One of the undecided Senators, Andrew Lanza of Staten Island, said they may be near a deal on those exemptions:
"We're close on language that I believe satisfactorily addresses the issue," said Sen. Andrew Lanza (R-S.I.), who remains undecided on the issue.
Some senators have said such tweaks could sway them to vote "aye" on same-sex nuptials.
Another undecided, Senator Greg Ball, is calling for a vote, according to Capital Tonight: