Last Thursday, the city of Holland, Michigan voted down adding sexual orientation to its non-discrimination ordinance.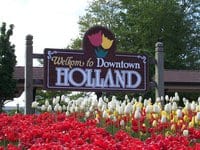 "I feel it was the wrong thing to do. I believe they just sent a message to the business world that Holland is not an inclusive community that welcomes diversity," said Ken Freestone, a Holland businessman, who listened to more than five hours of comment and council discussion before the group's 5-4 vote…
…An audible sigh of resignation came from the audience when the final vote was heard. An overflow crowd of 250 crammed the City Council chambers and its hallways. More than 60 people spoke to the issue, with their allegiances fairly evenly split.
Now, a Facebook group has sprung up calling on people to boycott the city:
So far more than 170 people belong to the group, which is open to the public. Group creator Sergei Diaghilev writes that he hopes to have 1,000 members by Sunday: "There are NO borders for joining – the more national and international concern expressed by friends outside West Michigan, the better!"
The group has 323 members as of this posting.