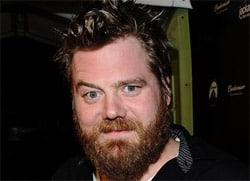 Jackass actor Ryan Dunn was killed in a car accident Monday morning, NBC Philadelphia reports:
"Sources say that Ryan Dunn was killed in a one-car accident that took place in West Goshen, Pa. around 3:30 Monday morning. Dunn was known primarily for his dangerous antics and practical jokes in the "Jackass" movies with his long-time friend Bam Margera. He is also a member of the CKY Crew with Margera. Ryan Dunn was 34."
Dunn's last Tumblr photo, posted the night of the crash, showed the actor drinking with two other people.
Dunn was the car's driver, police reported. One additional passenger also died in the crash.