Former NC Senator and two-time presidential candidate John Edwards was indicted for campaign finance violations this morning by a federal grand jury.
TPM adds that Edward was indicted on six counts: 
The 19-page indictment charges Edwards on six counts — one count of conspiracy to violate federal campaign finance laws and to make false statements to the Federal Election Commission; four counts of accepting and receiving illegal campaign contributions from two donors and one count of concealing those illegal donations from the FEC.
ABC 11 reports: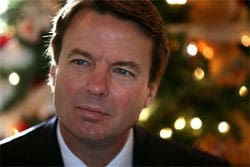 The charges come after a two-year investigation into whether Edwards used hundreds of thousands of dollars from political backers to cover up his extra-marital affair with Rielle Hunter. The issue has been whether Edwards should have reported the money as campaign contributions.
***
Edwards attorney Gregory Craig said in a statement last month that prosecutors have never found that campaign funds were misused and the government's theory in the case is without precedent and "wrong on the facts and wrong on the law."
Still unresolved is also a civil lawsuit filed by Hunter against Andrew Young and his wife over the ownership of a video purportedly showing Hunter and Edwards having sex.
Hunter wants the tape back, but the Youngs claim they own it because they say it was abandoned at a home Hunter shared with them. The case is working its way through the courts.
ABC News has posted a slideshow of images of Rielle Hunter and John Edwards during her life in seclusion.
Flashback…
John Edwards Admits Fathering Child with Mistress Rielle Hunter [tr]