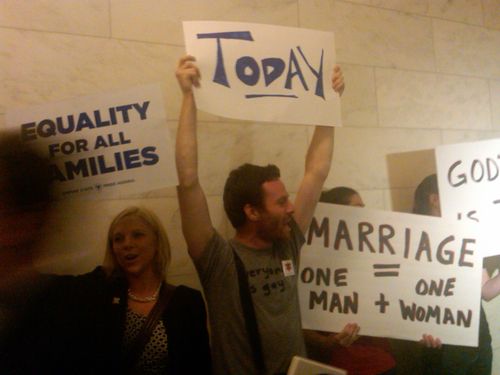 (image politicker ny)
There has been no decision made to vote on a marriage equality bill yet in the New York Senate. Advocates on both sides of the issue continue to fill the hallways of the state house. 
Keep watching Towleroad for updates. And CALL YOUR SENATORS. Info here.
Watch a video shot in the hallway, AFTER THE JUMP…
AP: "Republican senators went into a closed-door caucus Wednesday morning, but the gay marriage bill wasn't on the immediate agenda as they took up other major issues including a property tax cap, New York City rent control and public college tuition increases. Outside the Senate conference, members of several congregations sang hymns including 'Amazing Grace' alternating with 'God Bless America' in peaceful demonstrations by those for and against same-sex marriage."
Senator Majority Leader Dean Skelos says Cuomo has "changed his tune" on the marriage vote: "Yesterday, Governor Cuomo said New Yorkers 'are entitled' to see their legislators vote on whether to legalize same-sex marriage. This morning, Republican State Senate Leader Dean Skelos said that's different from what the governor initially wanted. 'I think the governor at one time said he didn't want a vote on marriage unless it was going to pass,' Skelos said, walking into his office this morning. 'So, he's changed his tune. But we haven't conferenced that issue, and at some point, we will.'"
NOM preemptively declares victory, then pulls statement.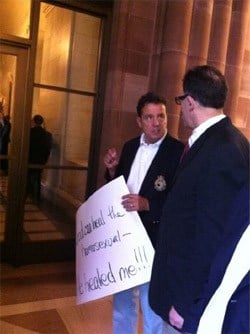 The "ex-gays" have arrived to fight for the anti-equality side. More info on the guy in the photo here.
Conservative Party chair Mike Long is lobbying GOP Senators: "The influential party leader sent a letter to the Republican majority in the Senate which can pass or kill a gay marriage bill that would be a major national win for the cause."
Senator Ruben Diaz and Long have penned a threat to Republican lawmakers who support same-sex marriage in the National Review today.
Village Voice: Diaz Family Values. "While Rubén Díaz Sr. lobs bombs against gay rights, son Rubén Jr. and lesbian granddaughter Erica run for cover."
A vote seems inevitable to at least one anonymous Republican: "I don't know how you stop a vote from happening," one Senate Republican said, speaking on condition of anonymity.
Celebrity chef Mario Batali has joined the crowds in Albany today to lobby for marriage equality: "Certainly we ought to give people the opportunity to do what they want, when they want, particularly involving their own personal beliefs," Batali said. "My pitch is that it's unassailable and immutable to have the choice to how to live your own life. Freedom and justice for all. It's pretty clear." 
Watch an interview from the state house hallways, plus a Thomas Roberts interview with Senator Greg Ball (who loves attention), AFTER THE JUMP…
Thomas Roberts interviews Sen. Greg Ball:
Visit msnbc.com for breaking news, world news, and news about the economy