A mass civil union of 33 couples was held in Millenium Park in Chicago yesterday, the Sun-Times reports: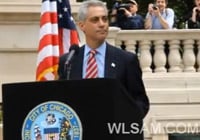 Several Cook County Circuit Court judges — and one minister — volunteered to preside over the individual ceremonies Thursday at the northwest corner of the park along Michigan Avenue. Wednesday was the first day the couples could get civil union licenses from the Cook County clerk's office, but the law required a 24-hour wait before a service could take place.
Governor Pat Quinn and Mayor Rahm Emanuel spoke at the ceremony. Emanuel noted that he had presided over a civil union earlier in the day.
Watch some excellent clips from the event, AFTER THE JUMP…
Here's a fantastic gallery from Tracy Baim at the Windy City Times.
WLS coverage: