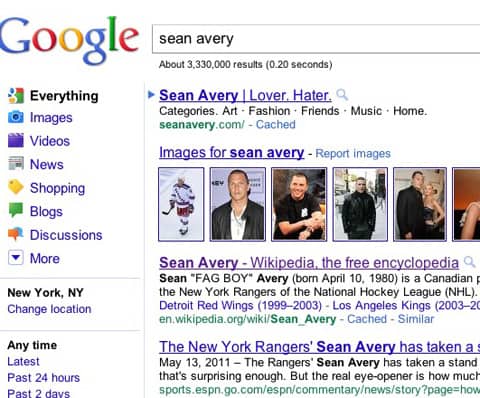 New York Ranger Sean Avery's Wikipedia entry was edited earlier this week, and as of this posting still appears in Google's search results as Sean "Fag Boy" Avery.
The entry was presumably edited over his support for marriage equality.
On its help desk page, Wikipedia notes that the entry has been corrected, noting "It's an unfortunate cached version of the page that got saved before the vandalism was detected and removed. However, as Wikipedia is among the top ranking sites in Google Search, it will be updated quite soon enough. It can take from a few hours to a few days, more likely the former. Try checking Google Search again tomorrow. Note that this issue is from Google and beyond the means of anyone here to fix. The actual wiki entry has already been fixed."
Thanks again to Sean Avery for his support of gay rights issues. Unfortunately this illustrates what many LGBT people must endure on a daily basis.