New York Archbishop Timothy Dolan is panicked that New York lawmakers might allow the state's citizens freedoms they have the right to enjoy.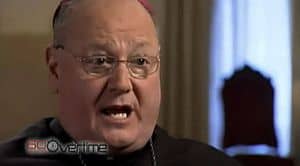 Writes Dolan, in a blog post:
Last time I consulted an atlas, it is clear we are living in New York, in the United States of America – not in China or North Korea.  In those countries, government presumes daily to "redefine" rights, relationships, values, and natural law.  There, communiqués from the government can dictate the size of families, who lives and who dies, and what the very definition of "family" and "marriage" means.
But, please, not here!  Our country's founding principles speak of rights given by God, not invented by government, and certain noble values – life, home, family, marriage, children, faith – that are protected, not re-defined, by a state presuming omnipotence.
Please, not here!  We cherish true freedom, not as the license to do whatever we want, but the liberty to do what we ought; we acknowledge that not every desire, urge, want, or chic cause is automatically a "right."  And, what about other rights, like that of a child to be raised in a family with a mom and a dad?
Our beliefs should not be viewed as discrimination against homosexual people.  The Church affirms the basic human rights of gay men and women, and the state has rightly changed many laws to offer these men and women hospital visitation rights, bereavement leave, death benefits, insurance benefits, and the like.  This is not about denying rights. It is about upholding a truth about the human condition.  Marriage is not simply a mechanism for delivering benefits:  It is the union of a man and a woman in a loving, permanent, life-giving union to pro-create children.  Please don't vote to change that.  If you do, you are claiming the power to change what is not into what is, simply because you say so.  This is false, it is wrong, and it defies logic and common sense.
The WSJ writes: "Four lawmakers who voted against gay marriage two years ago, including one Republican, declared on Monday that they would now vote in favor of allowing gays to wed. That means the odds are long for the Roman Catholic Church in its bid to prevent gay marriage from becoming legal in New York. The next few days will be an interesting test of Dolan's influence. It probably doesn't help that the archbishop is 3,000 miles away, leading a bishop conference in Seattle."
Catholic Online praises Dolan for "pushing back The Darkess in New York":
Archbishop Timothy Dolan is a heroic servant of the Church and pastor of the faithful of New York. When he was elected to the office of President of the United States Conference of Catholic Bishops I called it a sign of the Lord's continued guidance of the Church in the United States. I wrote "Truly, God has not forgotten His people in the Church in the United States" 
I also said then – and repeat it now – the United States of America has become mission territory. The Catholic Church in the United States is in need of the "New Evangelization." Archbishop Timothy Dolan is a wonderful instrument of this New Evangelization, a trumpet in the hands of the Lord.
The Catholic Church and the message of authentic freedom and true humanism which she proclaims is the only hope for this age being ravaged by a hungry darkness. With characteristic courage, Archbishop Dolan is defending  Marriage and the family and society founded upon it.