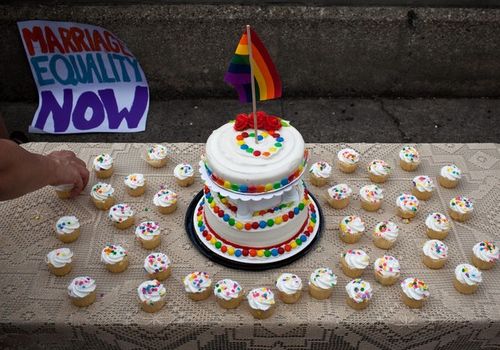 Hours after Friday's historic vote, city and state officials all over New York began planning for the expected swell of same-sex marriages in that state next month. The New York Times reports on the preparations:
"We are training our staff to be prepared for a very large number of people on the first day," said Michael McSweeney, the New York City clerk, who oversees the marriage bureau. "We are going to be part of history."

The city has struck an agreement to increase the number of state judges available to perform same-sex marriages. Their workload could swell; John Feinblatt, a top adviser to the mayor, said judges could be bombarded by requests to circumvent the 24-hour waiting period.

Over the next 30 days, state officials must also rewrite the marriage license application form and distribute it to the hundreds of city and town clerks. In Oneonta, a college town of about 14,000 people in central New York, the city clerk, James R. Koury, was expecting a surge in applications, especially on the first day.
Gay-friendly churches are also getting ready: "The Rev. Joseph Tolton, a minister at the Rehoboth Temple Christ Conscious Church in Harlem, said Saturday that he expects to be busy performing ceremonies after the law takes effect next month. The Pentecostal church has a large gay congregation."
Some estimates put the number of gay and lesbian weddings to be performed in New York over the next three years at 21,000 in-state and 45,000 out-of-state couples.