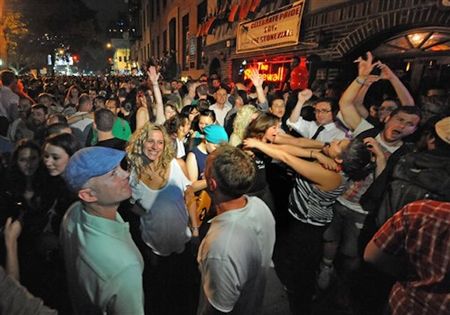 The New York Times has published a great lengthy piece on how New York eventually made it to marriage equality.
People celebrated all over New York City last night, including at the Stonewall Inn.
The White House responds: "The president has long believed that gay and lesbian couples deserve the same rights and legal protections as straight couples. That's why he has called for repeal of the so-called 'Defense of Marriage Act' and determined that his administration would no longer defend the constitutionality of DOMA in the courts. The states should determine for themselves how best to uphold the rights of their own citizens. The process in New York worked just as it should."
After last night's vote, New York state doubled the number of Americans living in a state with marriage equality.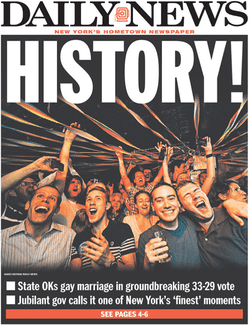 The New York Post buries the news on its cover. The New York Times and And Daily News do not.
NOM continues its hate by pledging $2 million in what it has announced as an attempt to reverse marriage equality in New York.
Watch: Openly gay State Senator Tom Duane's speech for marriage equality, delivered just before the vote last night.
Christine Quinn reacts: "When I was a little girl I dreamed I would one day get married, I never imagined that it would take tonight's Senate action to make that dream come true. Tonight's historic Senate vote is a great moment for all New Yorkers.  New York State's recognition of marriage equality for same sex couples is an extraordinary step towards full equality for LGBT people.  Tonith's sweet victory in Albany will be felt all across America. At long last, the change we have fought for will be seen in the lives of families throughout our great state, including my own."
NYT: "How Gay Marriage Will Change Couples' Financial Lives."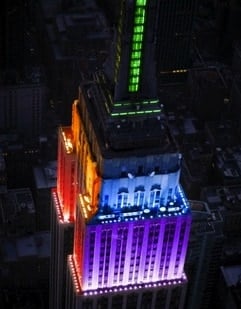 The Empire State Building was prepared for the good news.
Lady Gaga tweeted after the vote: "I can't stop crying. We did it kids."
Cyndi Lauper: I have never be prouder to be a lifelong New Yorker than I am today with the passage of marriage equality."
National impact: Fred Sainz of the Human Rights campaign says New York's law "sends the message that marriage equality across the country is a question of 'when,' not 'if.'"
The New York State Catholic Conference: "We strongly uphold the Catholic Church's clear teaching that we always treat our homosexual brothers and sisters with respect, dignity and love. But we just as strongly affirm that marriage is the joining of one man and one woman in a lifelong, loving union that is open to children, ordered for the good of those children and the spouses themselves. This definition cannot change, though we realize that our beliefs about the nature of marriage will continue to be ridiculed, and that some will even now attempt to enact government sanctions against churches and religious organizations that preach these timeless truths."
Watch a a few truly inspiring and emotional videos of the celebrations, AFTER THE JUMP.