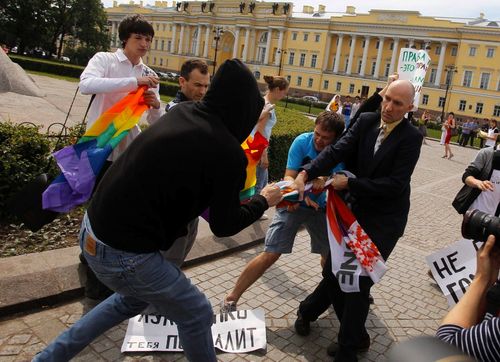 Gay rights participants who were taking part in an unapproved pride parade in Saint Petersburg, Russia today were attacked by a group of anti-gay protesters. 14 LGBT activists were arrested as were some of the anti0gay attackers. Russia's most highly visible gay rights advocate Nikolai Alekseyev was one of the jailed but was released soon after.
The AP reports: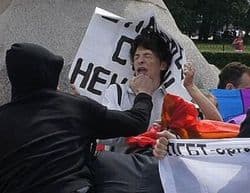 "I've seen a lot of things in six years of holding such events in Moscow, but I've never seen such cynicism in St. Petersburg," said Nikolai Alekseyev, Russia's highest profile gay rights activist, who was himself briefly detained.
Activists held their protest beside a monument to city founder Peter the Great, "because Peter the Great founded a city with European values," Yuri Gavrikov, head of the Equality group said Friday. President Dmitry Medvedev has insisted Russians share European values today.
UK Gay News has lots of detailed information on the attacks. The photo to the right captures the moment right gay activist Alexander Sheremete was attacked by an hateful anti-gay protester. Sheremete reportedly suffered head and lips bruises.
Update: I'm reading conflciting reports about those arrested. Pink News reports that none of those arrested have been released.