New York Senator Marty Golden, who in recent weeks has been outspoken against same-sex marriage and even introduced a frivolous bill with no chances that would void recognition of same-sex marriages performed elsewhere, suggests to the AP that the marriage equality vote may be pushed to next week: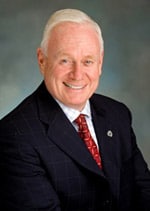 Republican Sen. Martin Golden of Brooklyn says the collapse of a deal to extend New York City rent control regulations late Wednesday night has complicated the gay marriage issue.
Golden says Thursday he still expects the marriage bill to get to the Senate floor for a vote, but that may not happen this week and could be Monday, Tuesday or Wednesday of next week.
Let's hope it doesn't take that long. We haven't heard anything from GOP leadership yet.
You can reach Majority Leader Dean Skelos here and tell him that you want a marriage equality vote THIS week.
Continue contacting your other swing Senators here.