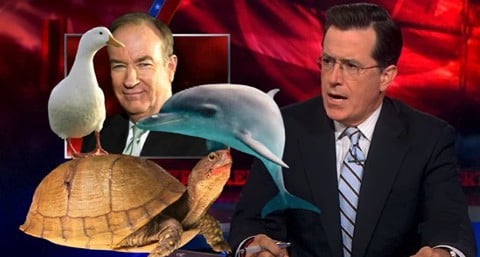 Here are a few items I didn't get the chance to post earlier today.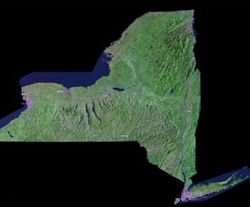 Stephen Colbert last night warned of interspecies romance following the marriage equality victory in New York.
Watch, AFTER THE JUMP…
A Quinnipiac Poll released Tuesday finds support for same-sex marriage in New York: "State voters support 54 – 40 percent a law allowing same-sex couples to marry, with voters under 35 supporting the measure 70 – 26 percent, according to a Quinnipiac University poll released Tuesday. Voters 35 to 64 years old also support the measure, while voters over 65 oppose it 57 – 37 percent."
Senator Kirsten Gillibrand is hoping for some momentum on other issues from the NY marriage win.
New York Senate Majority Leader Dean Skelos thought people were celebrating outside Stonewall because: "Asked on Tuesday what he thought about the scenes of teary-eyed jubilation on the streets of the West Village and other areas of Manhattan following the 33-29 vote, Skelos had this to say: 'I saw people that were happy.'  Later in the conversation, he said the joyful outbursts came because citizens 'saw government function.'"
An upstate New York town clerk is refusing to sign marriage licenses for gay couples.
NY GOP Senator Mark Grisanti, who voted for marriage equality, is being hit hard by conservatives and won't rule out running as a Democrat in the next election: "The Buffalo Republican, whose underdog victory last November swung control of the Senate to the GOP, also would not rule out running as a Democrat when he faces the voters again in 2012, backing off on a blanket rejection of such a move that he made after the Friday vote. 'I'm not saying I will rule it out,' he said during an afternoon news conference in the Mahoney State Office Building, 'but I do not see that — jumping over to the Democratic side.'"
NY GOP Senator Saland, another vote for marriage equality, discusses the decision: "I realized I had voted on Lord only knows how many thousands of bills, I've had to make many many difficult decisions, but I don't think that any of them quite rose to the magnitude of this decision. I think this may have been the most difficult decision that I've had to make."
Watch Colbert's segment, AFTER THE JUMP …