The NYT tells Obama to get with the program on marriage equality: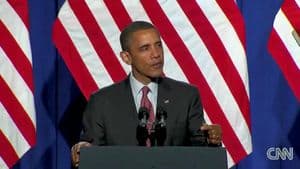 In the 2008 campaign, when Mr. Obama said he supported civil unions and believed marriage should be between men and women, he may have wanted to appeal to slightly more conservative voters who were wary of him.
After he took office, it became evident that Republicans intended to portray him as a radical, out-of-touch leftist no matter what he did. Supporting same-sex marriage at this point is hardly going to change that drumbeat, and any voter for whom that is a make-or-break issue will probably not be an Obama supporter anyway.
Firm support for gay marriage is, on the other hand, likely to help him among his cheerless base. Mr. Obama opposes the Defense of Marriage Act and is presiding over the repeal of "don't ask, don't tell." He signed the United Nations declaration on gay rights, and allowed the Census to count same-sex relationships. But he has been absent from the biggest and most difficult drive of all.
Previously…
Obama Delivers 'PAinfully Diplomatic' Speech, Gets Marriage Heckling at NY Fundraiser [tr]