The South African ambassador to Uganda and a former newspaper columnist Jon Qwelane has been fined for hate speech by a South African court.
The BBC reports: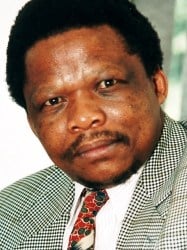 South Africa's Equality Court fined Jon Qwelane $14,450 (£8,920) and ordered him to apologise for promoting hatred in the column published in 2008.
Headlined "Call me names but gay is NOT OKAY", it caused an uproar at the time.
Mr Qwelane, who was appointed last year to Uganda where homosexual acts are illegal, did not mount a defence.
Correspondents say the outcome of the case is particularly significant in the light of the recent attacks and rapes of lesbian women in South Africa.
The International Relations and Co-operation Ministry called the verdict a "private matter".
Spokesman Clayson Monyela said the ministry respected the court's decision.
"The constitution is very clear about the rights of gays and lesbians," he said, and the government would be the first to defend this. "This incident happened before Qwelane was appointed as ambassador by the president. He wrote the article in his personal capacity. So it's in his personal capacity he must deal with this."
Also, here's a piece from the L.A. Times about the atmosphere for gays and lesbians in South African and Kwa-Thema, a township which was once a safe haven for gay people, that has taken a turn for the intolerant because of "a backlash against South Africa's liberal post-apartheid constitution among traditional leaders, conservative elements of the ruling African National Congress and some members of the community."