30 years in, we are still learning from AIDS.

NYC AIDS groups battle Bloomberg over cuts to services.

Condom maker targets gay men with fast application technology.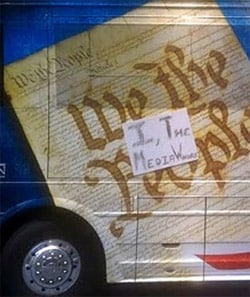 Sarah Palin's bus gets tagged in NYC, her Constitution rewritten.

Jill Abramson to replace Bill Keller as Executive Editor of the New York Times. "The move was accompanied by another prominent management shift at The Times. Dean Baquet, the Washington bureau chief, will become the new managing editor, marking the first time in eight years that the paper's top newsroom positions have turned over."

Horrific video of Syrian teen Hamza Ali al-Khatib tortured to death by government security forces inspires international condemnation and riots.

Guillermo del Toro's dark vision of Pinocchio.

Ugly Betty star Eric Mabius says anti-gay exec sabotaged show: "I'm pretty sure that the first teenage romantic kiss between two boys on network television was on our show, but did you hear anything about it? Was it promoted? The punishment was apparent every week. When they would run teasers for the next week's episode of other shows, they didn't even do those for us. That's how little support we had. It's short-sighted and silly. There was an undeniable feeling that the show was over at least a season early."

Liev Schreiber, shirtless, at a water park.

Attorney for Colton Haynes tries to 'de-gay' the actor's presence on the internet prior to the premiere of the new series Teen Wolf by demanding sites remove photos from old, suggestive XY magazine shoot. 

Former Iowa Republican state senator comes out for marriage equality: "At a news conference Wednesday in Des Moines, Jeff Angelo said the group is called Iowa Republicans for Freedom. He wants the group to encourage rank-and-file Republicans to support same-sex marriage as a principle of individual liberties."

Researchers: Gay men in serious relationships have false sense of security about unsafe sex and contracting HIV.

Radio talk show host and conservative columnist Peter Heck calls Don Lemon's coming out part of a "fad" by celebrities: "…there is absolutely no courage to be found in following what has become an alarming fad amongst the entertainment glitterati by joining the LGBT crowd. Does anyone actually think that in the politically correct world of American media there was any chance Don Lemon was going to be publicly criticized amongst his peers for such a declaration?"

Want to see a sneak peek of Twilight: Breaking Dawn?

Robbie Williams to launch menswear range.

Scientists discover "worms from hell".

Munich, Germany plans memorial to homosexual victims of Nazism: "The memorial will form part of a new pedestrian development in the center of Munich and will be placed at the corner of Oberanger and Dultstrasse, outside what was the Scwharzfischer (The black fisherman), a famous gay bar in the 30s."

Grilled cheese lovers rejoice.

Muslim leaders in Ghana petition government over threat gays present to nation.

Shapewear for men sees bulge in sales.

NFL Hall of Famer Warren Moon says he had gay teammates: "I think I have played with a couple of players who have been gay. I know of a couple of players, who I won't mention their names because they have not made it public yet. It really doesn't bother me what your sexual preference is as along as you don't bring in your sexual preferences to the locker room. I think that should be for homosexuals and heterosexuals. That's a personal part of your life you should deal with in that way. As long as your coming to the football team and bringing a positive influence, that's all that matters to me."