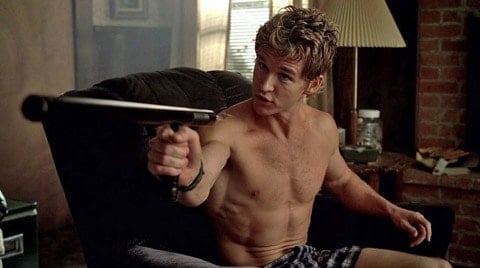 A straight character on True Blood will be entering into a gay relationship this season.
Writes Michael Ausiello at TV Line:
"…perhaps no transformation in the show's colorful history will come as quite as great a shock as the one that we find out about during the HBO hit's ferociously anticipated fourth season, premiering June 26: A major character, heretofore heterosexual, will be involved in a same-sex romance. I'm not going to reveal any more clues about the character…so as not to risk getting fanged by series creator Alan Ball. However, I will say that, having witnessed the big reveal, it doesn't feel gimmicky. In fact, after the initial shock wears off, I imagine you will do what I did and go, 'Yeah. Makes total sense.'"
Nothing should be inferred by the photo above…I have no idea who the character is…this was just an excuse to feature said photo of Jason Stackhouse.