Yesterday I posted about Richmond's Federal Reserve Bank and complaints it was receiving from citizens because it decided to fly the Gay Pride flag for the month of June.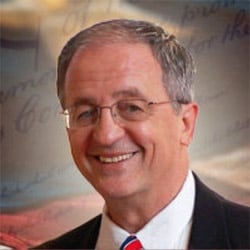 Now an anti-gay lawmaker has stepped into the fray, according to the Times Dispatch:
Del. Robert G. Marshall, R-Prince William, is asking the Richmond Federal Reserve Bank to remove the rainbow flag flying below the American flag outside of the building, calling its presence "a serious deficiency of judgment by your organization, one not limited to social issues."
In a letter to Richmond Fed President Jeffrey M. Lacker, Marshall says the homosexual behavior "celebrated" by the bank "undermines the American economy" and is a class six felony in Virginia.
"The Richmond Fed's endorsement of costly, anti-social, immoral behavior is rejected by 6,000 years of Western Religious and moral teaching," writes Marshall, who is among the General Assembly's most conservative members and has long been outspoken on gay-rights issues.
You may recall that Marshall was the lawmaker who tried unsuccessfully earlier this year  to ban gays from serving in the Virginia National Guard