The Washington Post's Perry Bacon Jr. makes note of the bind Obama is in with regard to his position on same-sex marriage and the current state of such legislation in New York, where he is holding an LGBT fundraiser tonight: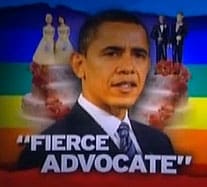 The fundraiser, one of three the president will attend in New York City on Thursday, is hosted by actor Neil Patrick Harris ("Doogie Howser, MD" and "How I Met Your Mother"). It will also include other entertainment figures such as actresses Cynthia Nixon ("Sex and the City") and Audra McDonald ("Private Practice"), as well former Rep. Patrick Murphy (D-Pa.), who championed the passage of the repeal of "don't ask, don't tell" ban on gays serving openly in the military when he served in Congress.
Obama aides have so far not commented on the president's views on the New York legislation. 
The article also notes that he may be forced to:
There is not a formal public question and answer session at Thursday's event. But people who attend New York fundraisers are known for shouting at whoever is the speaker and forcing him to respond.
ABC News writes: 
White House officials say not to expect any new stance from Obama at the event, a star-studded gala with as many as 600 guests paying up to $35,800 each at the Sheraton New York Hotel and Towers.
Given the setting, though, the president will have little choice but to address the action by the New York Legislature in some way, and his words are certain to be carefully parsed, given the evolution and nuances of his stance.
In any case, news outlets will surely cover the protests planned outside the fundraiser at the NY Sheraton.