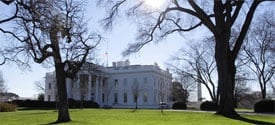 UPDATE 5:55 pm: The White House had the Pride Event listed on its website as a livestreaming event, but it suddenly vanished when the time arrived. Standing by to see what happens…
UPDATE 6 pm: Apparently the livestream has been canceled. I'll have it up if they post it later.
President Obama is hosting an LGBT Pride reception at the White House. It's scheduled to begin at 5:45 pm EDT.
Watch it LIVE, AFTER THE JUMP…
Meanwhile, before the reception began, activist group GetEQUAL reportedly handed out cards to attendees asking them to go on a scavenger hunt.