Michelle Obama's office has released a statement clarifying the First Lady's position on same-sex marriage after many news outlets suggested that comments made by former NJ Governor James McGreevey offered some insight into her position.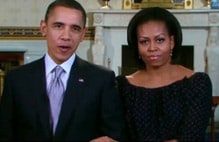 Said McGreevey: "If only [Barack Obama] would listen to Michelle more often."
The President, of course, has been under pressure in recent days for refusing to "evolve" on the same-sex marriage. 
The First Lady's office makes it clear she has no immediate plans to contradict that, and never has:
"Mrs. Obama has never made any public statements about same-sex marriage," her communications director, Kristina Schake, said in an email to POLITICO.