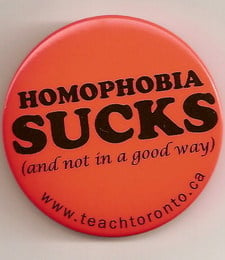 Homophobic social conservatives spew some of the most vile bile.
Just consider what Gary Glenn, head of the American Family Association's Michigan outpost, told radio host Linda Harvey about why corporations shouldn't hire LGBT employees:
Herman Miller, which is a major employer and corporation in Holland, a furniture company, supported this so-called gay rights ordinance on the claim that it allowed them to attract the best and the brightest.
…
What ridiculous folly to suggest that only those individuals who engage in homosexual behavior given all of its severe medical consequences constitute the best and the brightest. It's not really bright to engage in behavior that puts you at dramatically higher risk of mental illness and substance abuse and AIDS and cancer and hepatitis, and according to various sources, premature death. So to suggest that engaging in that type of behavior defines someone as the best and brightest, which seems to be the line coming out of corporate America, is just ridiculous.
Harvey of course concurred, and offered a spurious claim that same-sex relationships lead to more "domestic violence," and insisted, "I would not think of a homosexual person as a good employment risk, I just wouldn't."
Well, at least she referred to our personhood, rather than calling us "homosexual devils," or something.