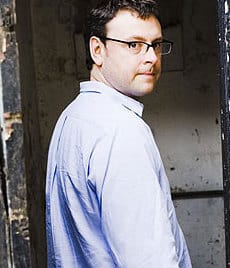 The teacher who pulled her school children from a gay opera insists she wasn't motivated by homophobia.
Rather, says Emma Hobbs, she objected to a scene in which a gay character was bullied, claiming it could have upset the students' "emotional well being."
"The gay character was not a problem. It is the language and the tone of the scene in question that were problematic," said Hobbs, remarking on Billy Elliot writer Lee Hall's (pictured) now-canceled opera. "The emotional well being of our children is my only concern in this matter."
Hobbs continued: "As a parent and an educator I have made the decision that our four to 11-year-old children have the right to be protected from offensive language and to be able to learn about the impact of upsetting insults in the appropriate manner."
It seems to me that learning about the reality of homophobic bullying in a safe school setting is one of the most appropriate backdrops possible, and that all this drama only reinforces a culture of silence and ignorance.
But what do I know?