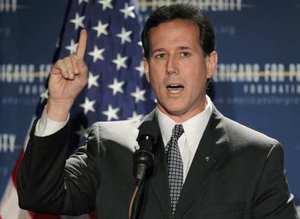 As reported this morning, likely presidential candidate Rick Perry said gay marriage should be left to the states, a pretty libertarian response for a man who calls himself an "unapologetic social conservative."
Well, this did not please declared candidate Rick Santorum, who last night tweeted, "So Gov Perry, if a state wanted to allow polygamy or if they chose to deny heterosexuals the right to marry, would that be OK too?"
He ended his message with the hashtag #tcot, which stands for "top conservatives on Twitter." (That's right, "top conservatives.")
Perry hasn't responded to Santorum, whose message rests on tradittional right wing arguments that equates gay marriage to polygamy, incest and bestiality, and it's unlikely the Texas governor would feel the need to respond to Santorum's swipe.
Perry's has over a ten-point lead on Santorum in multiple polls and Santorum only has a little over $500,000 in his campaign coffers, which means, of course, that he won't last long on this campaign trail, where money matters.