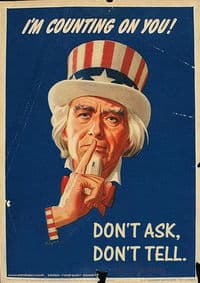 This comes as no surprise: anti-gay right wing group Alliance Defense Fund has come out against President Obama and the Pentagon's certification of Don't Ask, Don't Tell's repeal.
"Our troops' religious liberties are in unprecedented jeopardy because the government has caved in to pressure from small groups of activists to impose homosexual and bisexual behavior on our military," said Daniel Blomberg, ADF's litigation staff counsel.
Blomberg continues, "No Americans, and especially not our troops, should be forced to abandon their religious beliefs."
So, yes, this isn't surprising, but it is sad: don't Blomberg and his ideological allies have other things to worry about other than gay troops? I mean, if I had as much time and energy as these people expend on anti-equality activism, I'd be living a life of leisure.