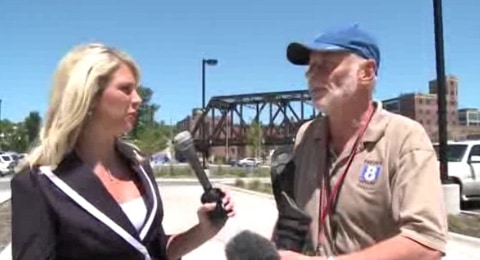 Michele Bachmann's 2012 presidential campaign is shutting out news organizations that ask about her husband's clinic and its practice of "reparative therapy" for homosexuality.
A cameraman for WQAD in Davenport, Iowa describes how the Bachmann campaign scrubbed a promised interview because one of the station's anchors had repeatedly asked Bachmann about the Marcus Bachmann clinic and the undercover operation that exposed its "ex-gay" practices.
At the end of last night's event the Bachmann campaign said the snubbing was based on interview questions News 8's Rae Chelle Davis asked the Congresswoman during a satellite interview two weeks ago. Undercover cameras had captured a counselor at the clinic owned by Michele Bachmann and her husband, Marcus, conducting reparative therapy. … Due to a pre-planned satellite interview, we were in the unique position to ask her about the controversy first.
During the satellite interview, behind the scenes, it got ugly. In the News 8 control room, campaign staffers threatened WQAD producers that they would cut off the feed if Rae Chelle repeated the question. A follow-up question was asked on the issue. The Congresswoman's answers were aired nationally on ABC World News Tonight and Nightline.
At Sunday's Davenport fundraiser was our first chance to interview Bachmann since the satellite interview incident. All Quad Cities media were invited to attend and promised a one-on-one interview during the evening. While our competitors were accommodated, WQAD was blocked and denied.
Watch an interview with the camera man, and the original Bachmann interview, in which the feed is cut off, AFTER THE JUMP…