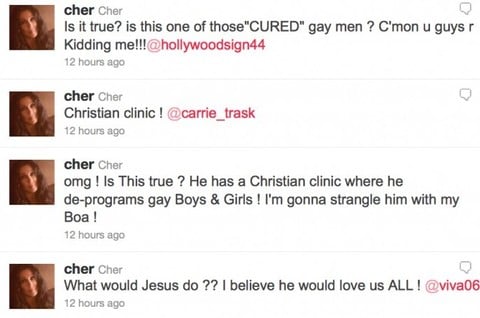 MSNBC reporter Thomas Roberts yesterday scrutinized Marcus Bachmann, husband of presidential candidate Michele Bachmann, and his claims that gays are "barbarians" who need to be "disciplined."
While it's wonderful to see mainstream media questioning Mr. Bachmann's fundamentalist politics, including his work for the "ex-gay" movement, no amount of cable punditry can compare to the power of long-time LGBT ally Cher, who took to Twitter this week to lambast Marcus Bachmann, and to offer her take on rumors that Michele's husband isn't being straight about his own proclivities.
She also says she wants to "strangle him with my boa." Don't mess with Cher, Mr. Bachmann: the legendary chanteuse takes her gays very seriously. As well she should.
Read more of Cher's remarks, AFTER THE JUMP…