The seemingly never ending story of the death of "Don't Ask, Don't Tell" (DADT) took another twist earlier this week. If you recall, the 2010 Democratic Congress passed, and President Obama signed, a bill that would eventually repeal DADT. Actual repeal would come after training of the rank-and-file, certification by a few military leaders and a 60-day waiting period. Republicans in the House tried to stymie that process by adding more people to the certification list and proposing to cut off funding for repeal. As yet, none of those proposals has thrown repeal off the wagon.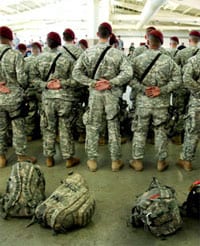 But, the Repeal Act came after Judge Virginia Phillips, a federal district judge in Riverside, California, declared DADT unconstitutional in Log Cabin Republicans v. United States and issued a world-wide injunction that stopped the enforcement of DADT immediately. Eight days after her decision, a three-judge panel of the Ninth Circuit issued a stay of Judge Phillips decision, resuscitating a dying DADT.
Until Monday, that status quo remained: DADT was still the law of the land even as training was progressing smoothly, Log Cabin was pending on appeal and a few service members were even discharged at their own request.
Then the Ninth Circuit got impatient. A different three-judge panel lifted the stay, killing DADT and then it asked the government to clarify if it was planning on defending DADT or just continue missing the point by arguing that the Repeal Act is constitutional. The convoluted path is interesting itself; it speaks volumes to the importance of both the original Log Cabin case and the success of legislative repeal in Congress. But, today, I would like to ask a different question:
Why does it matter? Who cares how DADT dies?
CONTINUED, AFTER THE JUMP…
For the purposes of this discussion, I ask you to assume that even though certification has not happened yet, it will happen and the Repeal Act would have brought about the end of DADT. To be sure, anything is possible and repeal could be derailed, but if we do not assume this, we are left preferring an injunction simply because it goes into effect now. That is not the point. I would like to discuss substance, not procedure. Let us also put to one side esoteric arguments about the preferred role of the courts versus the legislature in this content. Not only have we discussed that before, but there are more practical and substantive issues to discuss.
I believe that a merits decision from the Ninth Circuit affirming Judge Phillips's decision has significant advantages over DADT's death by the Repeal Act. Yet, it is far more preferable that this happened now, when the military is ready for it, than back in 2010.
There are at least two reasons why we should want a Ninth Circuit decision affirming Judge Phillips. First, an appellate court decision would include precedent on the heightened standard of scrutiny necessary for laws that discriminate on the basis of sexual orientation. President Obama's groundbreaking decision to stop defending the Defense of Marriage Act (DOMA) because he believes anti-gay laws deserve heightened scrutiny is one thing, but having an appellate court enshrine that standard for another anti-gay law would have broad implications for every incident of sexual orientation discrimination, including the DOMA challenges and even Perry v. Brown, the Prop 8 case.
Second, the Repeal Act was a little thin. Congress declined to address some specific implications of repeal. Jon Davidson of Lambda Legal reminds us of this litany of issues, including "whether those discharged in the past pursuant to that policy under less than honorable circumstances (or with a notation in their records about the grounds for discharge) should have their discharge upgraded and/or records corrected; whether proceedings to recoup enlistment bonuses and tuition payments from those not allowed to continue their service because of the unconstitutional application of DADT must be terminated; and whether those discharged pursuant to an unconstitutional policy are entitled to the same benefits they would be receiving if they had been allowed to serve out their terms (including pensions that may not have vested due to their discharge)." The Ninth Circuit's decision could impact all of these issues and even though the military has the power to address all of the through its own rule-making, that has yet to happen and we cannot be sure military regulations will be any better (or worse, for that matter) than a court applying heightened scrutiny to sexual orientation discrimination.
Of course, this all assumes that the Ninth Circuit affirms Judge Phillips. The panel could reverse and remand her decision, disagreeing with her, but that seems unlikely. More likely, the Ninth Circuit could find that the Repeal Act moots the Log Cabin case. Mootness refers to a situation where a case is no longer relevant, where there no longer is "a case or controversy" or an adversarial disagreement, for the court to hear. But, given the continued life of DADT under the Repeal Act, the panel's decision to lift the stay and the panel's almost-testy request that the government stop dawdling and make it clear whether it plans on mounting a defense.
Even if the Obama Administration decided not to appeal, the Ninth Circuit already made clear that it would seek out amicus curiae (third parties with an interest in the case) to make the pro-DADT case. That suggests that, if at all possible, the Ninth Circuit wants to rule on the merits. There is also the chance that the Ninth Circuit may want to move on the merits, but it cannot do so in time. The court's hearing is at the end of August, but if certification occurs in August and the court finds the Log Cabin case is not mooted, it will still be difficult to get out an opinion within 60 days. This is one reason why the Administration is "likely" to appeal the injunction — the longer the process drags on, the more likely repeal will happen before the Ninth Circuit can hand down a decision.
In the end, a Ninth Circuit decision is preferable. It could address important legal issues like the standard of scrutiny and discrimination policy. However, it should be noted that the stay was only lifted when the military was far long in the training process, with leaders having testified before Congress that they are on pace for certification in the summer and that the rank-and-file are on board. This may be a good thing: the more ready the military is for repeal, the less backlash there might be against DADT's immediate death.
This will be an interesting story for court-watchers to follow. The fate of DADT and its means of death is as much about procedure (mootness, timing) as it is about substance (heightened scrutiny). A Ninth Circuit decision has the potential to address both and that is why we want it.
Ari Ezra Waldman is a 2002 graduate of Harvard College and a 2005 graduate of Harvard Law School. After practicing in New York for five years and clerking at a federal appellate court in Washington, D.C., Ari is now on the faculty at California Western School of Law in San Diego, California. His research focuses on gay rights and the First Amendment. Ari will be writing weekly posts on law and various LGBT issues. 
Follow Ari on Twitter at @ariezrawaldman.