Gay conservative group GOProud tells Yahoo!'s The Ticket that the group has requested an audience with Michele Bachmann: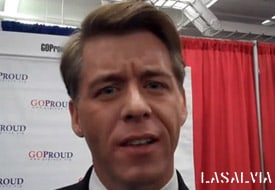 GOProud Executive Director Jimmy LaSalvia said that representatives with the organization have already met with some of the GOP candidates to discuss GOProud's legislative agenda–including a commitment to defeat a constitutional amendment banning gay marriage, which Bachmann supports–and they're hoping Bachmann will grant them some face time.
"We have requested a meeting with Michele Bachmann," LaSalvia told The Ticket. "We've made this request, as with the other requests, in good faith." He said GOProud officials intend to "discuss issues important to gay conservatives" with Bachmann and "anything she wishes to talk about." …
…
"We are committed to defeating Barrack Obama (sic) in 2012," LaSalvia said. "And want to be helpful to whoever secures the GOP nomination."
Previously…
Michele Bachmann Calls Gay People 'Part of Satan': AUDIO [tr]