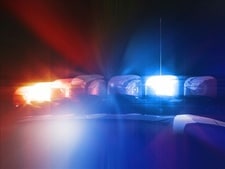 Two soldiers based at Fort Carson, Colorado, and their friends were reportedly attacked by homophobic bullies on Saturday.
The men, who would only give their first names, John and Ted, say they had been out at a gay club with friends, one of whom is a go-go dancer, and headed to a restaurant called Albert Taco for a late night snack when another group began hurling racial and homophobic invectives in their direction.
"As soon as we walked in, there was a group of [men] that walked in," said John. "And they started a confrontation with us because of the fact that one of our go-gos was still in his outfit."
"[We] heard a lot of racial slurs [and] a lot of hatred slurs towards homosexuals," before the confrontation escalated into physical violence, John told local ABC-affiliate KRDO.
"I ended up getting kicked in the head and in the ribs several times. I have six bruised ribs. And my right eye was completely swollen shut for about nine or 10 hours," said the soldier. Another victim had to have his jaw wired shut.
Police, who are looking for the suspected assailants, will investigate the incident as a hate crime. The soldiers, meanwhile, plan on keeping their names out of the press because their homosexuality is "definitely frowned upon" at Fort Carson.