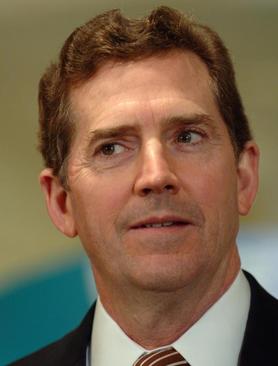 Senator Jim DeMint, the Tea Party kingmaker who once said single women and gay men shouldn't become teachers, today published a new book, The Great American Awakening.
In addition to dishing on the tensions that developed between him and Republican establishment when he began backing the Tea Party, DeMint also says that divine intervention fueled his political career.
McClatchy offers a summation of the South Carolinian Republican's claims:
DeMint writes in almost messianic terms as he repeatedly casts himself as fulfilling a mission assigned to him by God to "save freedom," prevent bankrupting the future and pull the nation back from a moral abyss.

Describing his book as a story of "the battle for America's soul," DeMint said he was tired of Washington after his first term and came close to not seeking re-election last year, but God persuaded him to stay in the fight.
DeMint's declaration that God shapes his legislative action reminds me of the late, great Comedy Central show Dr. Katz, Professional Therapist, on which comedian Marc Maron discussed how God no longer picks prophets.
Watch it, AFTER THE JUMP…