Activists are calling on the European Union for help after Italy's Parliament rejected a bill protecting LGBT people from hate crimes and discrimination, by a vote of 293 to 250.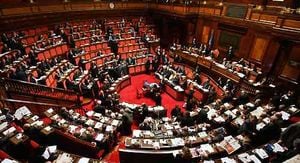 Italy already bans discrimination on the grounds of race, religion, ethnicity and nationality but campaigners say rising numbers of homophobic and transphobic attacks means LGBT people need more protection.
AFP reports:
"This Parliament has betrayed justice and civility and has decided to support the violent," said Paolo Patane, head of gay rights association Arcigay. He called on the EU "to help us face this extremely dangerous rise in homophobia, xenophobia and racism that the Italian Parliament has decided to legitimise."
Italy's chamber of deputies voted for a second time on the Bill, which gay and lesbian activists said was urgently needed given a rise in the number of homophobic attacks throughout predominantly Roman Catholic Italy.