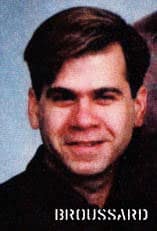 In 1991, ten men attacked a 27-year old gay man named Paul Broussard outside of a Houston nightclub. One of those men, Jon Buice, brandished a knife and stabbed Broussard to death. Now Buice is being released from prison.
Explaining their decision, the Texas Board of Pardons and Paroles cited his age at the time, 17, and note that he has spent his jail time obtaining college degrees and taking vocational courses.
While that may be enough for them, Broussard's mother, Nancy Rodriguez, has for years argued against releasing Buice, and noted in 2007 that he and his cohorts "not only took Paul's life, they took his future."
What's your opinion on this case, reader? Should Buice's age at the time of the attack be a factor? If so, should age be a factor in Brandon McInerney's trial?