The Contemporary Jewish Museum in San Francisco is taking very seriously an incident in which a guard tried to get a lesbian couple to stop holding hands while they were viewing — ironically enough — an exhibit on lesbian writer and poet Gertrude Stein.
The SF Chronicle wrote: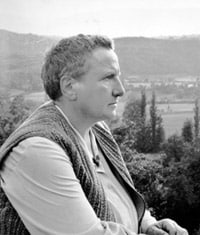 Levikow was in the gallery with her partner when she noticed a young lesbian couple in heated conversation with a security guard.
"They were holding hands," Levikow said, "and he told them they couldn't hold hands in the museum."
The couple did not agree. A small crowd began to form and the guard attempted to shoo the couple out the door to quiet things down.
"And they said, 'No we are not leaving and we want to talk to somebody in authority right now,' " Levikow said. "The idea that in 2011, in San Francisco, at the Jewish Museum, this guard could be that out of touch was shocking."
Museum officials have sent a letter to those affected by the incident and the museum's board and staff, the Bay Citizen reports:
"It caused quite an uproar," [Daryl Carr,  Director of Marketing and Communications of the museum] said, who was out of town at the time of the incident.
The museum does not employ its own guards, instead outsourcing work to a company called Guardsmark. Carr said the guard who reprimanded the couple was filling in due to a shortage and was not regularly assigned to the museum.  Shortly after the incident, the guard was asked to leave the museum, according to Carr. The museum wrote a letter to Guardsmark, expressing their unhappiness over the incident.
"We asked for him to be fired, actually," Carr said, but said that the company had instead reprimanded the guard and promised to provide sensitivity training to guards currently assigned to the museum and any guards assigned in the future. The guard who objected to the hand-holding will never work at the museum again.