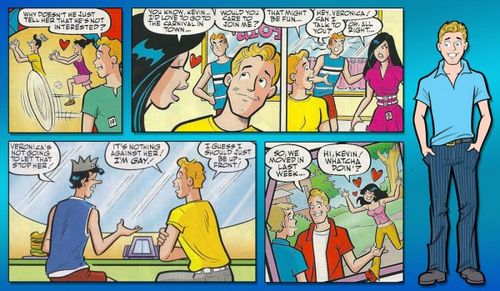 The NYT reports that Archie Comics' gay character Kevin Keller, introduced in Issue 202 of 'Veronica' last September, is a hit and will be getting his own series: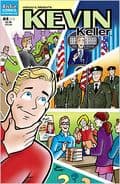 The series, titled Kevin Keller, will follow a four-issue mini-series starring Kevin that began in July and has started filling out his background, including his relationship with his father, who serves in the military and is supportive of his son's desire to follow in his footsteps. Like those for the other Archie characters, Kevin's series will deal with his life in high school. "He's going to be the class president," said Dan Parent, the writer-artist who created Kevin. But it won't all be a good time. "Even the most popular kids are not popular with everybody," Mr. Parent said. "There's some adversity he'll have to deal with."
Now, if Archie Comics marketers were really clever they would produce an "It Gets Better" video to promote the new series.