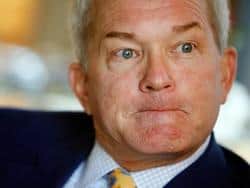 Mark Foley, the former U.S. Representative who resigned in 2006, when it was revealed that he exchanged inappropriate messages with Congressional pages,  announced today that he has prostate cancer, but won't require radiation.
"I learned five weeks ago after a routine exam that I have prostate cancer," said the 56-year old. "The surgery involves complete removal of the prostate. Naturally, I have some reservations about the surgery. Nobody wants their plumbing messed with. But I mostly feel good about it."
No matter what you have to say about Foley's legislative career or personal misconduct, you should probably wish him well on this one.