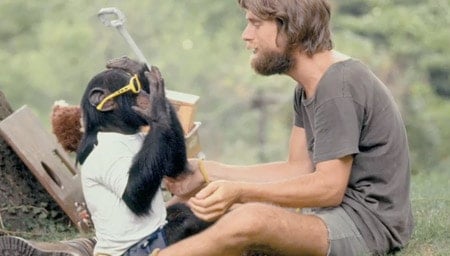 Nim is raised by humans and hot hippies in the 1970s


NATHANIEL ROGERS
…would live in the movie theater but for the poor internet reception. He blogs daily at the Film Experience. Follow him on Twitter @nathanielr.
 
 NOW PLAYING
It's a skewed movie-verse in which we live, this one wherein Kevin James gets to be called a movie star. ZOOKEEPER a terrible film about talking animals who know a lot about human behavior opens on thousands of screens tomorrow while PROJECT NIM, a terrific film about a "talking" animal who learns a lot about human behavior opens on a handful. Choose the documentary! Project Nim, which comes to you from the director of the Oscar winning documentary Man on Wire investigates a 70s experiment in which a baby chimp was raised by a New York family and taught sign language, only to be cruelly abandoned and handed back and forth between medical labs and animal reserves in a tug of scientific war. Nim shades its provocative story of human arrogance and interspecies curiousity with abundant humor, depressing facts, a seasons worth of soap opera fodder between its human cast members, and highly amusing period details.
Also Opening: Jason Bateman, Charlie Day and Jason Sudeikis plot to kill their HORRIBLE BOSSES Jennifer Aniston, Kevin Spacey and Colin Farrell in a bald cap. (Bald is always shorthand for evil at the movies, Professor Xavier excepted.)
BONUS SCENE

Project Third Oscar. By now you've seen Meryl Streep's latest "give me my third Oscar, already!" campaign, also known as the teaser for "The Iron Lady", and you already know of her rich Oscar history as the most nominated actor of all time (Jack Nicholson is now a distant second). She's been nominated 16 times thus far, winning twice early in her career.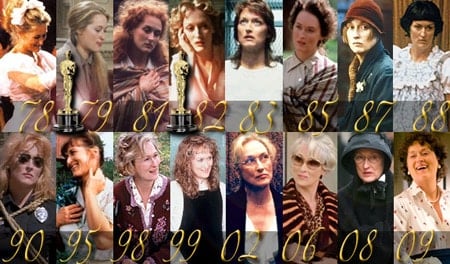 MORE AFTER THE JUMP
The Iron Lady teaser's delayed reveal is a cute little meta gimmick, keeping the actresses latest vocal and cosmetic transformation, which doubles as her character's image consultation, offscreen while it's talked up. Can Meryl finally win that elusive third statue, or is this going to be too camp? Please note: The director of Mamma Mia! is responsible. Awards Daily points out that people generally only win a second lead acting Oscar if they're in a Best Picture nominee which seems unlikely in this case.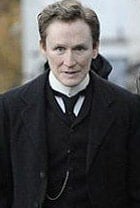 We're still about seven months away from nominations and the only Best Actress contender that's popped up in theatrical release and is mainstream enough for possible traction is Mia Wasikowska in Jane Eyre (Kristen Wiig will undoubtedly have to settle for a Golden Globe Comedy nomination for Bridesmaids) so we've got a long long way to go before the awards race comes into focus. My crystal ball keeps conjuring images of Glenn Close in drag as ALBERT NOBBS rather than Streep as the winner on Oscar night. We shall see. Here's my current for-entertainment-purposes-only predictions.
Incidentally the last time Streep won an Oscar (March 1983 for Sophie's Choice) was the first ceremony in which Glenn Close lost for the first time (The World According to Garp) and Close still has yet to win despite being an Oscar favorite for the entirety of the 1980s (5 nominations in total). In other words, both women have been waiting an awfully awfully long time to hold that naked gold man again… or for the first time.
How late in the year do you start thinking about Oscar… or do you start early like a good obsessive?

Forbes reveals the ten highest paid actresses working. The usual suspects are accounted for: Angelina Jolie and various romantic comedy comedy queens. Meryl Streep is the lone 80s holdover.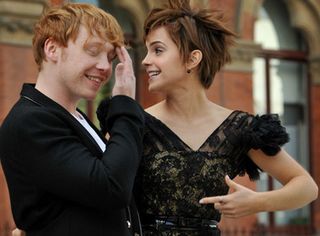 Final cast photos for Harry Potter. "It All Ends" the movie ads keep promising and it's true. A whole decade of Potter-mania is about to close.

Have you heard that the infamous screen to stage fiasco Carrie the Musical is returning to the boards? Good luck Marin Mazzie! Piper Laurie's take on religious nut "Mrs. White" will be a tough act to follow. "They're all going to laugh at you!"

Perpetual hottie Billy Campbell turns 52 today. He sure did age well but anyone remember how adorbs he was on Dynasty?

Anne Hathaway hanging with Valentino.
THE CLASSICS

The Hairpin remembers Marlon Brando most riveting years in dungarees.

The difficult task of filling Barbra Streisand's Funny Girl heels.

We were just having an Italian Melodrama moment so let's close with an image from Luchino Visconti's Rocco and His Brothers (1960) which is well worth a look on DVD if you've never seen it.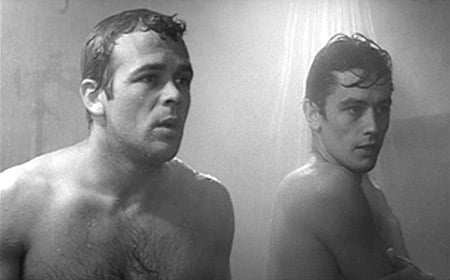 Were Renato Salvatori and Alain Delon the steamiest fictional brother act ever to hit the big screen?