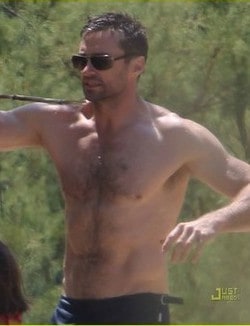 An estimated 1,000 conservatives marched in Santiago, Chile, to protest gay marriage.

Hugh Jackman shirtless. That is all.

The Dark Knight Rises cast has gathered in Pittsburgh to continue shooting the final installment of Christopher Nolan's Batman trilogy. Still no sign of Anne Hathaway as Catwoman, though.

While I like the concept, the set-up and premise sounds terrible: Adam Sandler wants to remake 1987 comedy hit Three Men and a Baby with gay men raising the abandoned child, and hopes to cast Chris Rock, Rob Schnieder and David Spade as the dads.

Speaking of celebrity time warps: Lindsay Lohan and the Hilton sisters are friends again. Your sleepless nights are over.

Why are Republican lawmakers pushing anti-Shariah legislation? From the NY Times: "The more tangible effect of the movement, opponents say, is the spread of an alarmist message about Islam — the same kind of rhetoric that appears to have influenced Anders Behring Breivik, the suspect in the deadly dual attacks in Norway on July 22. The anti-Shariah campaign, they say, appears to be an end in itself, aimed at keeping Muslims on the margins of American life." Sounds about right.

Seventy-three people dead after the increasingly shaky Syrian government deployed soldiers to take down opposition.

Was Amy Winehouse preparing to adopt a 10-year old from St. Lucia?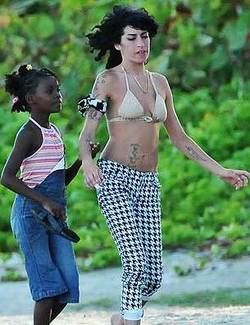 Anti-gay author Michael Brown calls Southern Law Poverty Center a "hate group:" "It is the leaders of the SPLC who are either irresponsibly attacking other fine organizations, or worse still, knowingly defaming them. Who then deserves the title of 'hate group,' Focus on the Family or the Southern Poverty Law Center? Who has been guilty of demonizing others and spreading hurtful, inaccurate information? Whose actions and words have been hateful?" Yours.

Will Prince Harry be the next royal to walk down the aisle?

All of potential presidential candidate Rick Perry's anti-gay declarations may not be enough to win him the Tea Party vote.

Openly gay presidential candidate Fred Karger and former House Speaker Newt Gingrich, also a White House hopeful, are tied in a new Zogby poll.

Wayne Koestenbaum, author of the new book Humiliation, offers his thoughts on the emotion's relationship to his gay identity: "I think, at least in my generation, being gay involved traveling a long, often illegible, and very badly marked trail of shame. Really without signpost, except for knowledge of what to avoid. So that just to arrive at anything close to a salvageable identity is to experience that hot-cold shiver of humiliation along the way. And I also think that, at least in my aesthetic sensibility, we've made an art out of finding humiliation sometimes reparative."

Openly gay actor Neil Patrick Harris' Smurfs movie tied for number one with Harrison Ford and Daniel Craig's Cowboys & Aliens.