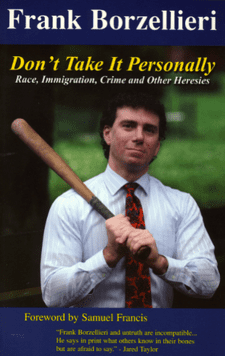 This is unsettling: the principal at Our Lady of Mount Carmel, a Bronx Catholic school with students who are predominantly black and Latino, is a white supremacist — and a homophobe.
From the New York Daily News:
Frank Borzellieri, 48, was quietly promoted to principal of Our Lady of Mount Carmel School two years ago – despite a history of controversial writings and campaigns, including a push to ban a biography on the Rev. Martin Luther King Jr.

In 2004, Borzellieri wrote the book "Don't Take It Personally: Race, Immigration, Crime and Other Heresies," in which he declares "diversity is a weakness" and says the rising black and Hispanic populations in America will lead to the "New Dark Age."
…
Borzellieri, who unsuccessfully ran for state Assembly in 1994 and City Council in 1997, previously made headlines as a school board member in District 24 in Queens, where he lives.

During his board tenure, from 1993 to 2002, he tried to:

Ban literature he labeled "anti-American" from school libraries. His targets included books on different races and culture, and a biography of King.

Remove an openly gay teacher and gay-rights activist from the classroom at Public School 199 in Sunnyside, and ban school employees from making any references to homosexuality.
The school's pastor, Reverend Eric Rapaglia, told the paper that while he doesn't agree with all of Borzellieri's politics, he believes "much of it valuable and logical and reasonable," and added: "A lot of his ideas would actually benefit minorities."
Um… How?