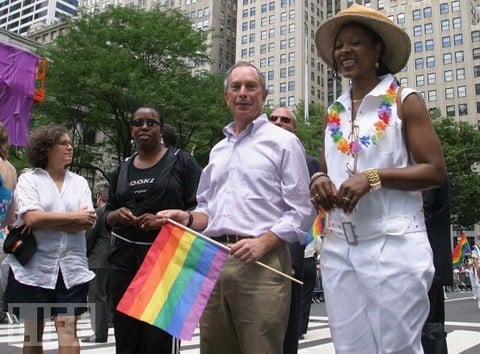 Hoorah for Michael Bloomberg!
The New York City mayor has been a fierce advocate for marriage equality over the past few months, lobbying in Albany and donating some of his billions to the cause.
Now that equality legislation has passed, Bloomberg will preside over the marriage of his long-time aide, John Feinblatt, and his partner of 14-years, Jonathan Mintz, who also works for the Bloomberg administration.
According to the New York Times, Bloomberg, who has previously presided over his daughter's wedding, as well as former Mayor Rudy Giuliani's nuptials, pulled Feinblatt aside last week and made the offer. Feinblatt then consulted with Mintz, who readily agreed, and now the wedding is on for July 24th, the first day same-sex couples can marry in the Empire State.
Bloomberg credits Mintz and Feinblatt with helping move him toward supporting marriage, and tells the Times,"John and Jonathan are two of the smartest and hardest-working people in our administration… This just felt like the best way for me to say thank you."
Read more, AFTER THE JUMP…
The paper offers more on how Feinblatt and Mintz made it official:
On Sunday, Mr. Mintz gathered his daughters at the family's weekend home on Long Island and asked them a question. Wasn't it time that he married their father?

The girls jumped up and down and screamed "Yes!" Mr. Mintz then grabbed a fistful of flowers from the yard and called Mr. Feinblatt outside. With the girls standing a few feet away, Mr. Mintz bent down on one knee and made it official.
"He said yes," Mr. Mintz recalled. "It would have been pretty awkward if he hadn't after 14 years."

Later that day, the two men took their daughters ring shopping.
It's enough to melt my little gay heart!