While UK tabloids reported that singer Amy Winehouse had bought a cocktail of drugs in the days before her death this weekend in London at 27, her publicist said that Winehouse died "alone in bed":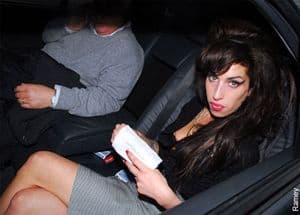 …the late singer's publicist, Chris Goodman, insists there "was no wild party" and Winehouse spent her last hours with her minder Andrew Morris before going to bed alone – only to die in her sleep.
Goodman says, "At this stage no one knows how she died. There has been speculation that she had taken drugs and we can't say anything until the autopsy has been done. There was no wild party, she died alone in bed.
"Amy was on her own at home apart from a security guard who we had appointed to help look after her over the past couple of years.
"She was in her bedroom after saying she wanted to sleep and when he went to wake her he found she wasn't breathing. He called the emergency services straight away. He was very shocked."
Her family spoke out following the tragedy:
The family of the singer, speaking for the first time on Sunday, said they had been left "bereft" by her death, describing her as "a wonderful daughter, sister, niece". In a statement they said: "She leaves a gaping hole in our lives. We are coming together to remember her and we would appreciate some privacy and space at this terrible time."
Winehouse's death has caused sales of her music to surge. Matthew Linder writes, in The Atlantic:
Are iTunes and Amazon cashing in on an artist's death? Absolutely. Some commentators have estimated that Apple profits to the tune of twelve cents per ninety-nine-cent song. But iTunes, the world's largest music retailer, is also instantly connecting Winehouse fans to her music at a time when it is perhaps most emotionally poignant to listen. Indeed, beyond efficiency, there is little difference between buying an Amy Winehouse album on iTunes today and buying a Nirvana album at Tower Records in April 1995. (Did Tower Records plaster its windows with "Remembering Kurt Cobain" signs? Maybe not.)
And in the UK:
Winehouse re-entered the charts on Sunday with Back to Black placed at 59. Martin Talbot of the Official Charts company predicted she is likely to be in next week's top ten as people continued to revisit her music. "For the world and British music to lose such a talent and icon yesterday is truly tragic. Back to Black is one of the greatest albums of the last 20 years and its hardly surprising that people are going back to it," he said. "Behind this tabloid figure she was this immensely talented person who produced a huge album that was loved around the world."
Previously…
Amy Winehouse Found Dead In London Home [tr]