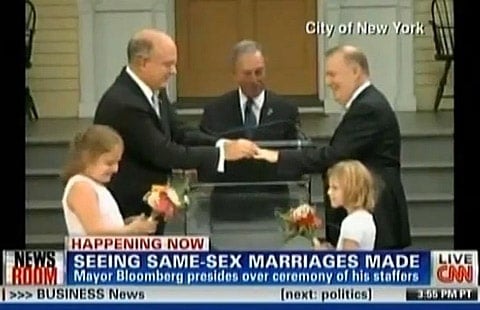 As a cap to yesterday's extraordinary marriage equality festivities in New York State, NYC Mayor Michael Bloomberg officiated at the wedding of his staffers John Feinblatt and Jonathan Mintz on CNN.
The ceremony, in front of the steps of Gracie Mansion, unfolded just as the sun began to set on Sunday evening.
"Usually when the three of us are together, we are arguing the finer points of guns or consumer fraud," Mr. Bloomberg said. This time, the occasion was both very public and very personal, and the smiling Mr. Bloomberg said he was "glad I asked to be part of it." (The crowd chuckled, and Mr. Bloomberg added, "I did!")
Watch the moving ceremony, AFTER THE JUMP…
Don't miss yesterday's big marriage equality update HERE.