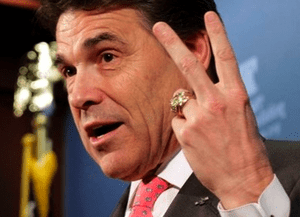 Rick Perry's playing both sides of the conservative fence.
The Texas governor and likely presidential candidate has been courting social conservatives with an evangelical prayer event, "The Response," cozied up to the reliably homophobic American Family Association, and last weekend said he was being "called" to the campaign trail, a whistle for the Republican Party's religious base.
Sure not to tread too far right, however, Perry took a staunchly libertarian Tea Party stance when discussing gay marriage, which he told GOP donors should be a state's right.
"Our friends in New York six weeks ago passed a statute that said marriage can be between two people of the same sex. And you know what? That's New York, and that's their business, and that's fine with me," said the Governor. "That is their call. If you believe in the 10th Amendment, stay out of their business."
But rest assured Perry told the cheering crowd that he's still an "unapologestic social conservative." He also said he'll make a presidential decision within the next three or four weeks.
If he runs, Perry could give another social conservative, Michele Bachmann, a run for her money, and Mitt Romney, too: two polls released this week show Perry right on frontrunner Romney's heels when it comes to popularity. Bachmann places third behind both men.