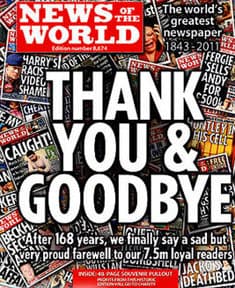 In the wake of an ever-growing phone hacking scandal, Rupert Murdoch's News of the World officially closed its doors today.
Inside the final edition, the paper's 8,674th issue, the editorial board admitted the 168-year old paper had "lost its way."
We praised high standards, we demanded high standards but, as we are now only too painfully aware, for a period of a few years up to 2006 some who worked for us, or in our name, fell shamefully short of those standards. Quite simply, we lost our way. Phones were hacked, and for that this newspaper is truly sorry.

There is no justification for this appalling wrong-doing. No justification for the pain caused to victims, nor for the deep stain it has left on a great history. Yet when this outrage has been atoned, we hope history will eventually judge us on all our years.
If you haven't been paying attention, the weekly paper has been embroiled in controversy after it was revealed that a private investigator on their payroll had hacked into the voicemails of murder and terror attack victims, all in the name of a "scoop."
An estimated 200 staffers are now unemployed, and at least three of the paper's former bigwigs have been arrested for their roles in the scandal.
High-ranking News Corp executive and former News editor Rebekah Brooks, however, remains free, and many are wondering whether Murdoch is protecting the woman he sees as a protégée.