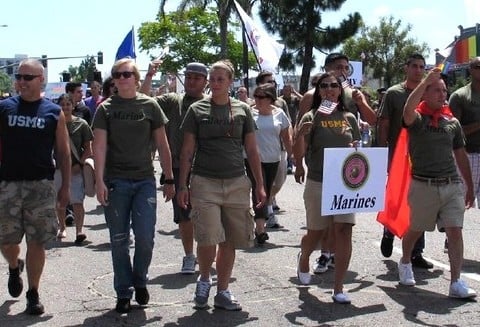 Journalist Rex Wockner was on hand to capture video of active duty troops marching alongside their LGBT peers at
San Diego's Gay Pride
yesterday.
While initial news reports put the number of troops marching at about 200, Wockner counted more like 300.
Some 300 active-duty troops (the majority of the contingent) and veterans marched in San Diego's LGBT Pride parade today.

As best as we can determine, it was the first time this has happened in the United States in any sort of organized way. It was a symbolic goodbye to Don't Ask, Don't Tell, which, while not quite dead-dead, is apparently dead enough!
Indeed: the Ninth Circuit Appeals Court in San Francisco this week reversed course on an injunction against DADT. While active members can no longer be investigated and routed out, recruitment officials still have the power to dismiss openly gay applicants.
But the show of support from gay and straight alike in San Diego really does represent a sea change. LGBT support grows by the day, and even the most cynical should be proud to see how far we as a nation have come in a remarkably short period of time.
Watch the video, AFTER THE JUMP…
Video and image via Rex Wockner: