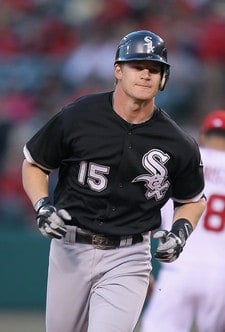 White Sox player Gordon Beckham and Kansas City Royals' Chris Getz are good friends.
So when the teams faced off last Monday, Beckham wanted to leave Getz a message in the diamond's dirt, and wrote, without thinking of the implications, "Getz Is Gay." Now he's sorry.
"Chris is one of my best friends. It was a joke. I didn't know anybody could see [the dirt]. I didn't mean anything, you know?" Beckham told the Sun-Times.
He later tracked down the reporter again to reiterate his contrition: "I just want you to know that that's not me. I don't use slurs. I have a lot of gay friends. I didn't mean it as anything ­— you know, like gay as in … happy! Or, you know, an alliteration — 'Getz is gay.'"
As Beckham deals with the personal backlash, White Sox general manager Ken Williams made clear that he's "disappointed" in the 24-year old player's behavior.
"I'm disappointed. I know Gordon, the man, and I can't think less of him because I do know him. And I know he and Getz are friends," said Williams. "But I'm just disappointed… There just needs to be a greater awareness of when you're in the public eye. Something between two friends meant as a joke? Well, you're representing not just yourself, but your team, your sport, your family."
Williams continued, "The organization didn't do it. He did it. He should apologize for making us less than what we stand for.''
The baseball bigwig also pointed out that Beckham should have known better, because Kobe Bryant was just fined $100,000 for calling a referee a "fag," and White Sox manager Ozzie Guillen was criticized for using the same slur in 2006.