ABC Family became the second network, cable or broadcast, to receive an "Excellent" rating in GLAAD's annual Network Repsponsibility Index, which evaluates the quality, quantity, and diversity of lesbian, gay, bisexual and transgender (LGBT) people on television. The only other network to receive the rating is MTV, last year.
(below, ABC Family's show Pretty Little Liars, which features a lesbian character – Shay Mitchell, second from right)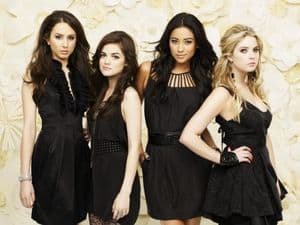 Other key findings:
Compared to last year's NRI, GLAAD has found that the five major broadcast networks have all remained relatively steady in the percentage of LGBT-inclusive hours found in their primetime programming.  There has been no change in their rankings relative to one another based on these figures, though The CW, Fox, and ABC all experienced slight declines, while NBC and CBS both experienced slight increases.  ABC saw the greatest decline at -3%, while CBS saw greatest increase at +3%.
For the second year in a row, The CW is the top broadcast network in this report with 171 (33%) LGBT-inclusive hours out of 521 total hours of original programming. Last year, The CW reached 35% LGBT-inclusive hours, which remains the highest percentage ever recorded for a broadcast network since this report's inception. The CW's programming also reflected the second greatest racial/ethnic diversity among its LGBT impressions of all the broadcast networks.
Once again, ABC had to settle for third place behind The CW and Fox in terms of the percentage of its LGBT-inclusive primetime hours. However, ABC led all the broadcast networks in total hours of LGBT inclusion. Of the 1108 total tracked hours of primetime programming, 253 (23%) included LGBT impressions.
For the third year in a row, CBS remains in last place among the broadcast networks. Since GLAAD began the NRI, CBS has demonstrated the least overall improvement over a five year period. This year however, it posted the largest gain of any network with a modest 3% increase; 114 (10%) LGBT-inclusive hours of programming out of 1110 hours total. Because of this, CBS' score was raised from "Failing" to "Adequate."
Showtime made a stronger showing this year with 35.5 (37%) LGBT-inclusive hours out of 96.5 total. Though it didn't feature the most racially diverse range of impressions (85% white), it did include a strong showing for both lesbians (54%) and bisexuals (48%) in its LGBT-inclusive hours.
Another network that showed improvement was USA, which increased from 4% LGBT-inclusive hours to 18% thanks to the upgrading of Diana Berrigan on White Collar to regular status.  This improvement moves USA from a score of "Failing" to "Adequate."
A&E and TBS continue to reside at the bottom of our rankings and earn "Failing" grades with only 5% LGBT-inclusive programming hours each.  Those numbers are a slight improvement over the 2% and 1% they respectively posted in last year's NRI.
Said Michael Riley, President, ABC Family: "We're proud of our programming, and grateful for the recognition from GLAAD. We strive to reflect the rich diversity of our audience and the world around us, including the LGBT community, through strong characters and engaging, authentic storytelling.  Earning GLAAD's highest rating for our inclusive programming is both an honor and a validation of our programming's positive impact."
Download the full report HERE.