Tim Molloy at The Wrap notes that of all the announced contestants on Dancing with the Stars, Chaz Bono was by far the most talked-about on ABC's website, noting that "If Americans quickly vote Bono off the show — or keep him on despite a middling performance, as they did with Palin — it could reveal plenty about attitudes toward transgendered people."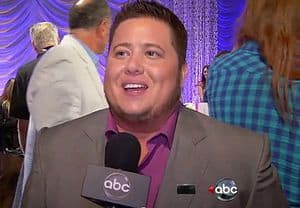 Writes Molloy:
"HUGE HUGE fan of this show since season two and eagerly await each season to get my dancing/entertainment 'fix'!! But when I heard that Chaz Bono was going to be on, I was sick. Not that I have anything personally again her/him, I just don't want that lifestyle choice continually flaunted in the media esp ABC," went one typical anti-Bono comment.
But for everyone who vented disgust — or questioned whether Bono would dance with a man or woman — there were many who defended Bono and accused his critics of bigotry.
Chaz is getting criticism from another corner as well. Thomas "pregnant man" Beatie, complained to TMZ that he was shut out of the running after Chaz expressed interest:
Beatie tells TMZ … he reached out to casting in the hopes of landing a spot a few months ago — but never got a call back. But after DWTS announced that Chaz would be on the show, Thomas says he thinks he knows why he was rejected — the transgender quota had already been filled.
Thomas says he understands why producers wouldn't cast two famous transgender people on the show — but he's still pretty bummed out … telling us, "I wanted to try my new body out. I'm an athlete and I know I would have excelled."